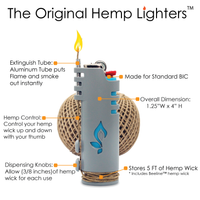 Hemplights ® are only $9.85 each
Replace your traditional lighter forever and help save some of the 1 Billion lighters thrown out every year with our sustainable lighting source. These simple tools will make it easy for you to light your products with the gentle, low temperature flame of natural hemp wick. Hemplights are a convenient way to store, carry & use your favorite hemp wick. Each Hemplights includes Original Beeline™ European hand made hemp wick. Thank you for choosing Hemplights.
How to use your Hemplights®
HEMPLIGHTS®
Hemplights offers The Original Hemp Lighter on the market. These convenient tools will make it easy for you to light a multitude of products with Beeline™ premium hemp wick. Beeline™ offers premium, organic hemp wick that is handmade in Europe since 2005. Hemplights® are proudly made in the USA* Thank you for supporting our brand.